History-
In July of 1997, Mark and Charlene Hicks both left their jobs and pursued their dream of owning their own business. Vinyl Concepts was started out of a 2 car garage with a small line of credit and 1 pick-up truck.
With a plan to offer fencing, railing and decking to lumberyards, pool companies and landscape businesses Vinyl Concepts was born. As their business grew so did the need for a larger facility. After 18 months they built a 2500 square foot facility, but very soon after that they again needed to obtain a larger facility. They are currently located in a 10,000 square foot warehouse in Huntingburg, Indiana where they have been since approximately 2002.
In March of 2014 Mark and Charlene decided it was time to pass the torch on and sold Vinyl Concepts to new owners Brandon and Tabitha Zehr. They are the current owners of Vinyl Concepts and are still following the same principles as the original owners; quality vinyl products with speedy service and outstanding customer support.
Vinyl Concepts Inc. is a family owned and operated business.
About Us-
Brandon and Tabitha Zehr were married in October of 2007. Shortly after being married they bought their first home in New Haven, Indiana. A few years later in 2009 they had there first child, Amelia Grace Zehr. They soon realized that the addition to their family had caused there small starter home to feel even smaller. They then made the decision to move to a larger home on the north west side of Fort Wayne, Indiana near Brandon's place of employment. Here they spent the next 4 years of their lives and also welcomed another addition to their family, Brooke Elaine Zehr.
Brandon's dream was always to own his own business. His father who he looks up to dearly has been a business owner for almost 30 years and was the driving force behind Brandon's desire to be his own "boss". With his guidance Brandon and Tabitha were able to make their dreams come true and purchase Vinyl Concepts.
Brandon and Tabitha now reside in southern Indiana with there 2 young girls who they love more than anything. Brandon enjoys watching college sports and golfing and Tabitha enjoys shopping and crafting (which she is great at). Family is everything to Brandon and Tabitha so they love spending every moment possible with their beautiful daughters.
Brandon and Tabitha feel so blessed to be the owners of Vinyl Concepts and plan to carrying on the same principles that were instilled years ago by the original owners Mark and Charlene Hicks for many many more years!
Update- We have added a 3rd member to our little family. Calvin Lee Zehr was born in December of 2018. He is such a happy little boy and loves life!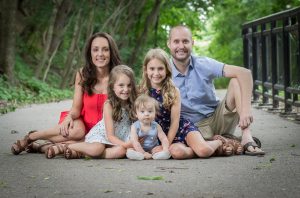 "A satisfied customer is the best business strategy of all."  ~ Micheal LeBoeuf
List of  some areas we service-
Tri-State
Evansville, Indiana
Jasper, Indiana
Huntingburg, Indiana
Newburgh, Indiana
Odon, Indiana
Vincennes, Indiana
Louisville, Kentucky
Henderson, Kentucky
Owensboro, Kentucky
Bridgeport, Illinois